THANK YOU!
To all our supporters of the Cutchogue Fire Departments 64th Annual Bar B-Q
who have made this event the sucess that it was.
The flow of vehicles through our grounds made the "Drive Up" go smoothly and with
the efficiency of our staff preparing the dinners the wait time was kept at a minimal.
By 8:30 we completed serving all meals.
The members of the Cutchogue Fire Department and the Ladies Auxiliary,
Thank you again and we do look forward toward seeing everyone next year.
9/2021 MJM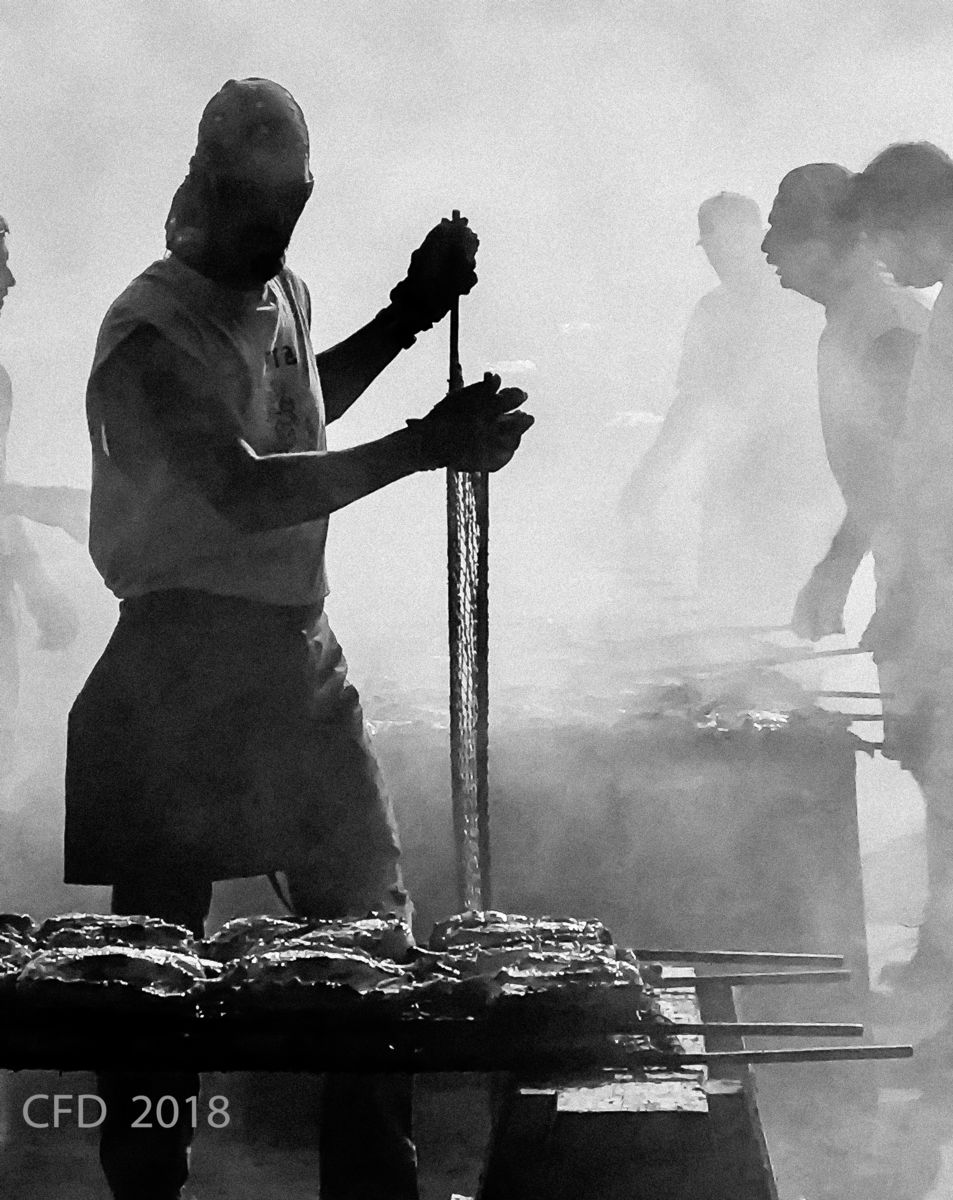 "Smoke Eaters"
If you would like to know how this event was formed and the men and women who made it possible, you can now take home a first edition copy with you, from the Bar B-Q on Saturday August 22nd. See what it takes to organize and prepare the food for over 3,000 dinners with interviews of members of the Fire Company and Ladies Auxiliary who actually started the BBQ.This video was made by one of our own members, Videographer Paul Jablonski with the assistance of his wife and crew. Paul collected all the photos and videos we had from previous years and spent many hours of his time filming current Bar B-Q's and interviewing life long members who made it possible.
This original video is yours for on $20.00 each at the Bar B-Q.
Thank you and we know you will enjoy this 1-1/2 hour video.

Thank You again for your Support!
Making use of previous Bar B-Q shirts.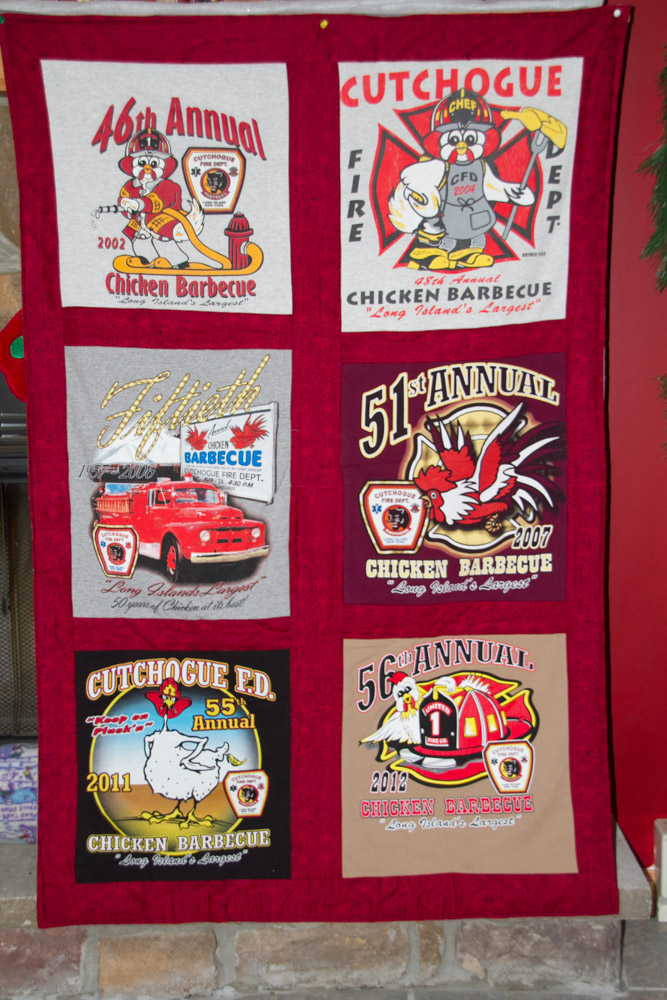 A testimony to artistic tallents!
Bar B-q Shirts have been available over the years only at the August event. Assistant Chief Bill Brewer has designed all the shirts and over the years Lisa Martin-Geeze has collected them and decided to use the shirts in the above quilt for a christmas Gift, well done! (2013)
click Here for Story and pictures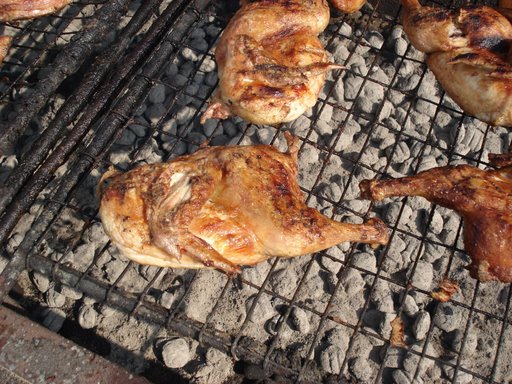 This is what it's all about!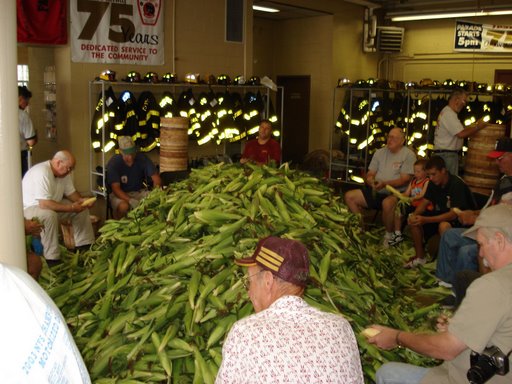 ..............and the corn!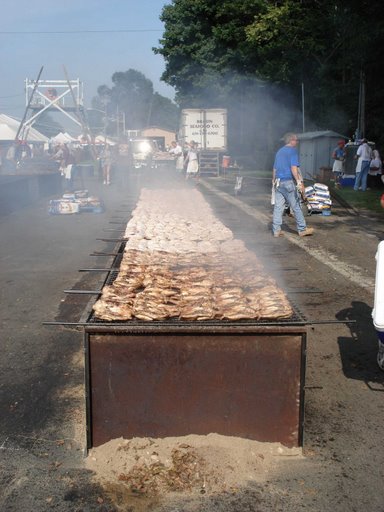 the slow cooking process.....
Past Chairman of the Chicken Barbeque
1957 - Stanley Salter
1958 - William Midgley Jr.
1959/1960 - Byron Horton
1961 - Philip Horton
1962 - Fiske Reynolds
1963 - Gerard Dickerson
1964 - Anthony Blados
1965 - John Lademann
1966 - Matthew Martin
1967 - Ed Zuhoski
1968 - John Zaveski
1969 - Curtis Horton
1970 - Vincent Wieczorek
1971 - Ed Grohoski
1972- Stanley Victoria
1973 - Robert Doroski
1974 - Everett Glover
1975 - Bennett Orlowski Jr.
1976 - Chuck Crofts
1977 - Robert Fisher
1978 - Francis McCaffery
1979 - John Behr Jr.
1980 - Allan Glover
1981 - Timothy Horton
1982 - William Lademann
1983 - Frank Keeley
1984 - Thomas Christianson
1985 - Arthur Brewer
1986 - George Schneider
1987 - Dale Butler
1988 - David Blados
1989 - Anthony Blados Jr.
1990 - William Dermody
1991 - Andre Cybulski
1992 - Frank Mele Jr.
1993 - Bruce Stewart
1994/95/96 - Michael S. Boken
1997 - Michael C. Boken
1998 - Kenneth Richert
1999 - Donald Richert
2000 - Antone Berkoski
2001 - William Maston
2002 - Ed Nicholson
2003 - Kenneth Pearsall
2004 - Jason Cooper
2005 - Will Parks
2006 - Kenneth Pearsall
2007 - Andre Cybulski
2008 - Cathy Cibulski
2009-Barbara Domaleski
2010-Joe Konchalski
2011-Garret Lake
2012-William Burns
2013-Kyle Pumillo
2014-Matt Rolle
2015-Chris Dinizio
2016-Chris Voegel
2017-Chris Talbot
2018-Tom Robbins
2019-Chris Voegel
2020-Covid-19 Shut Down First interrupsion
2021-Mark Finnerty
Click Here for the Chicken Barbeque Photo Gallery